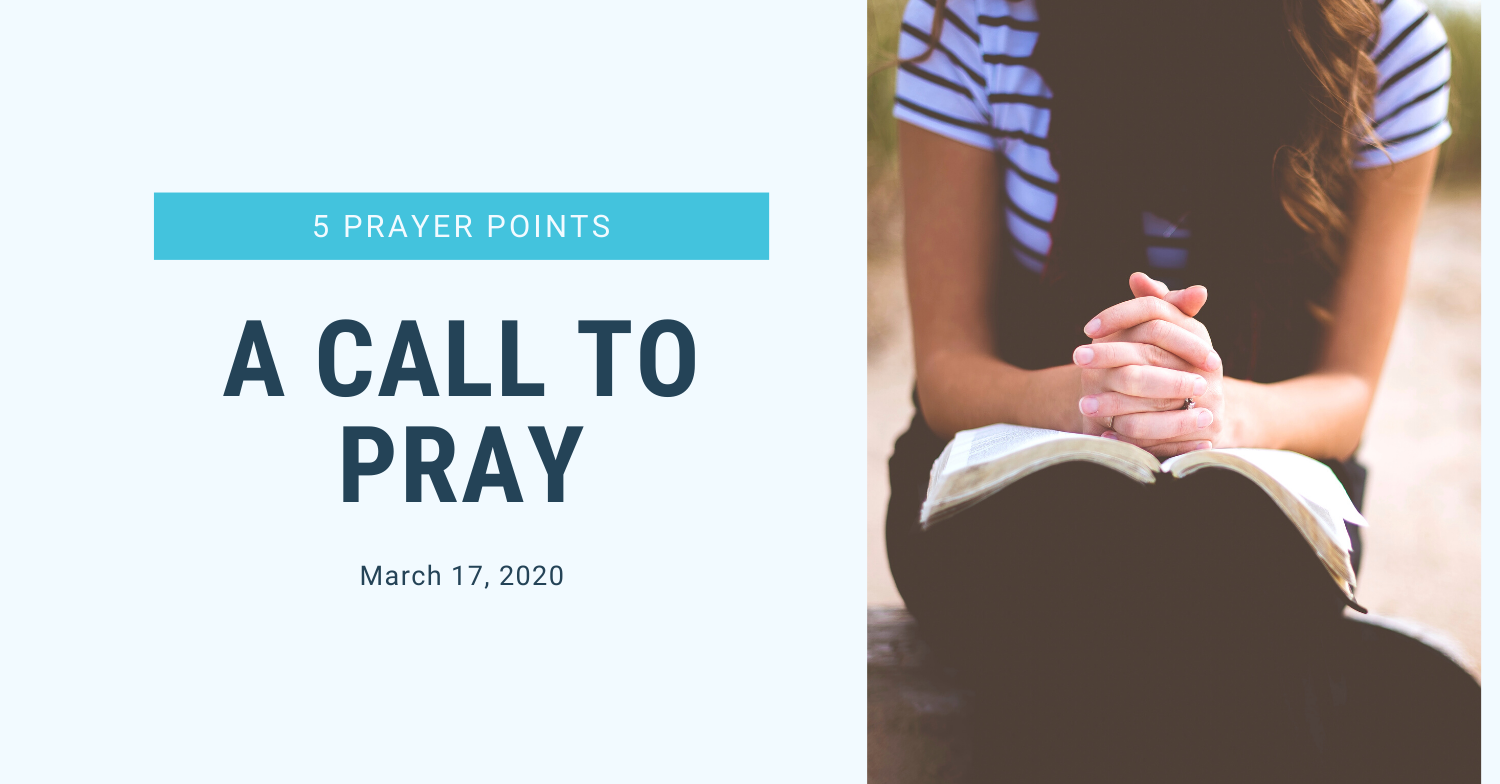 Hi Everyone,
I want you to know that you are loved and care for by this congregation. In the midst of this Covid-19 virus scare, we want to be a source of hope and life. Please read the following call to prayer. During the next few weeks, we will be improving our tech game to minister online. But our tech game means nothing if we are not also instrumental in raising our prayer game where we will be fighting at a higher level. God bless you and let us know how we can serve.
CORONAVIRUS CALL TO PRAY
Dear Bethel family,
For some time I have been sensing in my heart to make available a time for us to pray as a congregation for our present situation with the Covid-19 coronavirus. It appears that there seems to be a new development every time I look at the news. We are certainly in unprecedented territory, and in situations like this, we certainly seek the voice, wisdom, and direction of God. As I am praying, the five following things seem to be hitting me hard.
That God would heal those who are affected by the coronavirus and that the virus can be slowed and stopped. We want to pray for the healing power of God! We want to pray that God will protect all those who call on His name and love Him. That those with gifts of healing will rise and be effective in ministering in Jesus' name! That a cure will quickly be found.
That God would help in an economic sense. That God will provide for those affected during this time. That there will not be any layoffs or losses of job. That God will help our economy as a country. That God will help our finances as a church as we deal with the challenges of supporting it without physically being able to meet together.
That God would help us as a church. That God will give us creative ideas on how to minister to the congregation during this time. That we will be the link, the love, the light, and the life that God has called us to be. That whatever Satan has meant for evil, God will return for good. For the anointing presence and baptism of the Holy Spirit! That those who have evangelistic gifts will rise up and minister.
That God will send a spirit of Hope to replace a spirit of fear - We are praying this over believers as well as anyone who is going through this journey without Christ. That we will take this opportunity to draw near to God and cast our care on Jesus as we call out to Him.
For this to be the moment that God will use us. That whatever obstacles we are facing, God will use to become opportunities in the name of Jesus! That we will have creative ways to minister outside of our own walls. That we will be attractive to a lost world that is worried and needing an answer. That the Holy Spirit will draw people to him, and when He draws people to Him that we will be ready to respond and minister and care.
So at this time, I would like to issue a call to the people of Bethel Christian Assembly… Bethel Brandon family, to rise up and pray that God will move! I want to be praying for these five points and more. For those who can fast and pray, I implore you to do so. For those who have intercessors giftings, I am calling on you to use them right now! I have designated the chapel to be open for prayer from 12 p.m. to 1 p.m. Monday to Thursday to allow people to pray together for a move of God. If this isn't a crucial time to pray and contend for God to move, I don't know what is. For those who believe that God moves when we pray, I make my plea to you today. If anyone has any other ideas or avenues in which we can pursue this, please contact me and let me know. I am always open to hear from anybody who has a heart to call out to God for our community and our nation. Let's pray together that God will move. Perhaps this is a God moment we need to take hold of!
Thanks, everyone. God bless.
Pastor Mike Gordon
Bethel Brandon