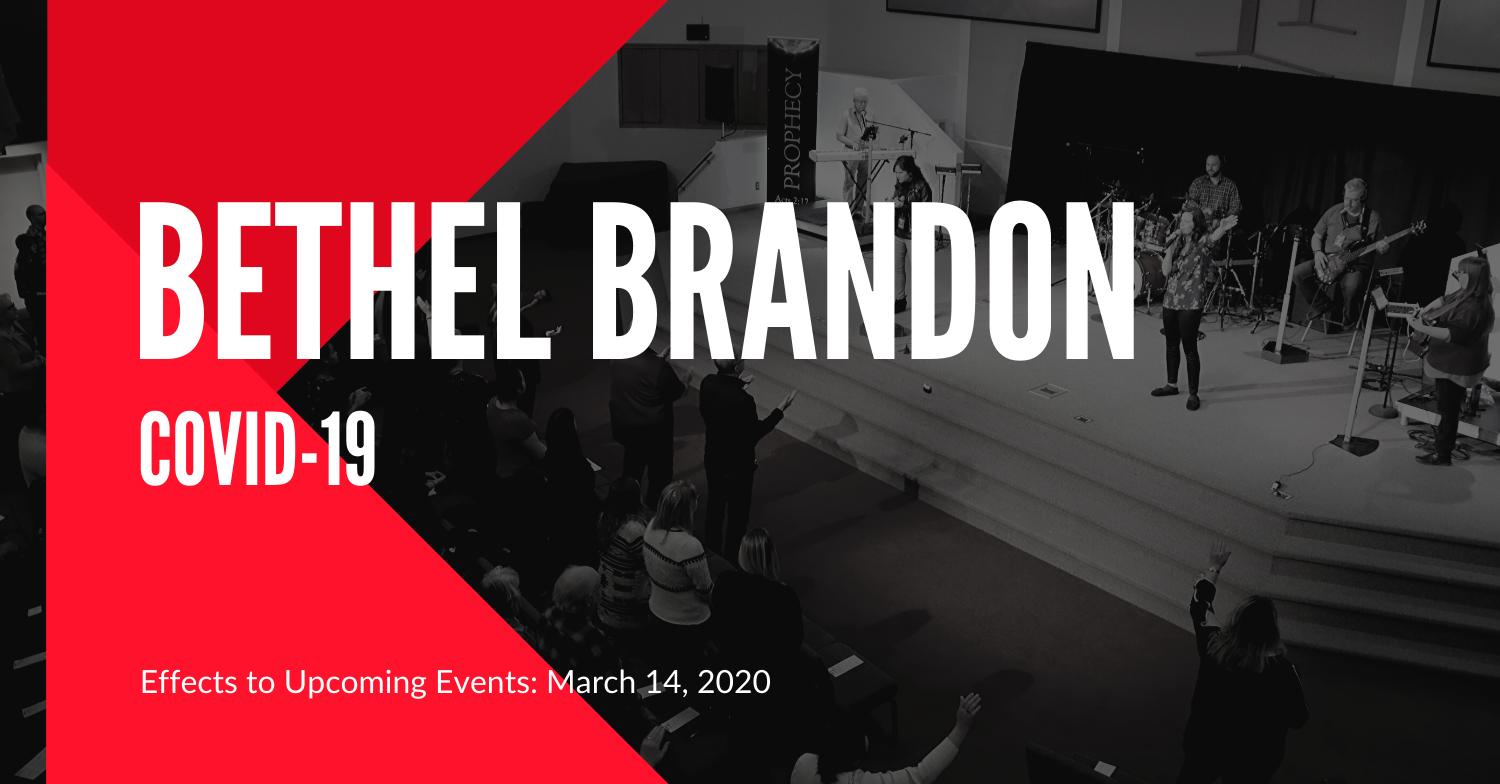 Dear Bethel Family,
With all of the news and updates of the Coronavirus we wanted to send an email out to anyone who is remotely connected to Bethel Brandon to update you as to what is happening this Sunday and each day as we move ahead. For those of you who didn't know there were a number of activities and ministries which have been planned which we will be postponing as a result of recommendations from our national, provincial and local government. Please note the following items as they apply to us as a church family
The Sunday a.m. service on March 15, 2020, will be cancelled due to concerns connected to the Covid-19 outbreak - We will be monitoring and reporting on this as we go forward. All small groups and ministries will be continuing and our office will be opened during the week. We will be looking for creating avenues to reach and minister to people during the week. Please contact the church office if there are any questions you may have. Pastor Mike will be recording his message for this Sunday and should be available on podcast as soon as possible. For those wishing to hand in their tithes for Sunday they will be able to hand in their envelopes to the office. We remind you that you can give online through the Church website, our Church Center app, or text to give. You can also e-transfer tithes and offerings (send to [email protected] and email us the keyword) or use debit at the church. Please call the office (204-727-0639) if you need any help. Your continued support is crucial as we seek to minister to people in this unique time.
Appreciation dinner for all of our volunteers for Sunday, March 15, 2020, will be postponed - We had over 200 coming and trying to serve that many in our contained dining area is just not feasible at this time. Sorry everyone. But we are still having it...eventually
Missions trip to Brazil has been postponed - It is still happening but at a time when we are cleared to do so. Thanks for everyone who has supported this event and your support will still be utilized for the mission.
We are trying to navigate through this situation with faith in God and not being governed by fear while at the same time working with the authorities recommendations. Please pray for us as we seek the wisdom and direction of God. Our hope is that this can be an opportunity to serve and minister to our community. Please read the following statement we have formed as leadership of Bethel.
Thanks Pastor Mike
Dear Bethel Family,
We are closely monitoring the news of the coronavirus (COVID-19) both locally and globally, and we're paying attention to guidance published by the Centers for Disease Control and Prevention (CDC), the Public Health Agency of Canada/Health Canada, as well as what we can gather from local and provincial reports and recommendations.
There is one case and three presumptive cases in Manitoba, to-date, and it is not being spread person to person in our community—everyone who has contracted the virus so far, has been connected to travel abroad. While we know the coronavirus is primarily spread through close contact, we are taking all precautionary measures to ensure a safe place of gathering and worship at Bethel. We have implemented a plan for extra safety and sanitation. We believe God is still and will always be in control. The spread of this virus has caused a level of fear and anxiety for many people. While we know and believe that God will cover his people in the midst of the storm, we do not take this situation lightly and understand the importance of operating with wisdom. Scripture is clear, "God has given us a spirit of power, love and a sound mind, and not a spirit of fear." (2 Timothy 1:7).
As you attend our services, here are some additional steps and measures we are implementing to ensure a safe and healthy environment in our gathering places.
ILLNESS: If you are currently experiencing symptoms or illness, please enjoy the sermon podcast online, posted on our website rather than physically attending a service. This will ensure you recover more quickly, and that you do not pass on an illness to others. If you desire prayer for healing, please contact us by emailing [email protected] or calling the office at 204 727-0639.
DOORS & ENTRANCES: To minimize contact points with other congregants, our volunteer teams will hold exterior doors open to greet you. The customary handshake will be replaced with a friendly verbal greeting and as always, an encouraging word. We also have hand sanitizer stations throughout our building and near our entrances for all services.
GREETING: During the greeting time in our services, we recommend you greet each other with smiles and waves instead of handshakes.
OFFERING: If you don't already, we recommend that you give online through the Church website our Church Center app or text to give. You can also e-transfer tithes and offerings (sent to [email protected] and email us the keyword). We are encouraging our church body to use these secure systems; they are reliable, easy and safe. Also, we encourage that you consider setting your online giving to be recurring in order to stay systematic and consistent in honoring the Lord with your first fruits. The ministries and outreach for Christ's Kingdom continues through these challenging times. Many will need the love and care of Bethel now, more than ever. We will still provide an offering collection bucket and will guide you on how these will be used during this season of increased precaution. Our goal is to make you feel as safe and comfortable as possible.
CHILDREN'S AREAS: Our ministry leaders here at Bethel are committed to wiping down check-in surfaces between all services with disinfectant wipes. If your child displays any symptoms, please do not bring them into our Children's ministry area during this time, please take them home and avoid exposing others to illness.
ONLINE SERVICES: Although we encourage you to join us in person, we can at least offer a great online podcast experience, if you decide you cannot attend. If you are traveling, not feeling well, or feel more comfortable attending virtually, we encourage you to join us by taking in our ongoing teaching each week, at bethelbrandon.ca. Once again, you can submit prayer requests, give online, and stay connected through our online interaction and support staff, who are ready to serve you.
PREVENTION: We strongly encourage you to become educated in how the coronavirus behaves. Take some time to understand proper preventative measures to support being part of the solution. Here are some of the basic measures listed on the Centers for Disease Control website:
· Avoid close contact with people who are sick.
· Avoid touching your eyes, nose, and mouth.
· Stay home when you are sick.
· Cover your cough or sneeze with a tissue, then throw the tissue in the trash.
· Clean and disinfect frequently touched objects and surfaces using a regular household cleaning spray or wipe.
· Wash your hands often with soap and water for at least 20 seconds, especially after going to the bathroom; before eating; and after blowing your nose, coughing, or sneezing.
· If soap and water are not readily available, use an alcohol-based hand sanitizer with at least 60% alcohol. Always wash hands with soap and water if your hands are visibly dirty.
Please continue to pray for those affected around the world and in our community. We know that God answers us when we pray.
Blessings!
Bethel Brandon Leadership
Office 204-727-0639